State of Iowa Termini
Western Entry
Eastern Terminus
Sioux City:
Missouri River into NE
With US 20 and US 75
Sioux City:
I-29, exit 144B
Western Entry
I-129 enters Iowa from Nebraska just south of Sioux City, multiplexed with US 20 and US 75.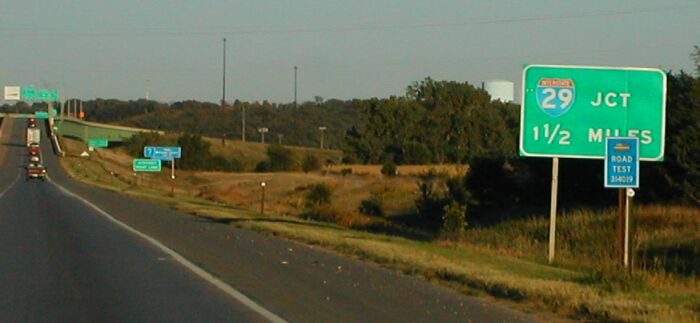 I-129 approaches the border crossing from Nebraska. You can see the "Sergeant Floyd" Missouri River bridge in the background, including the square, white welcome to Iowa sign.

I-129 crosses the state line. As it does so, it immediately meets its parent, I-29. This is also the beginning of Business US 75.

Heading the other direction, westbound into Nebraska.
---
Eastern Terminus
I-129 meets its parent I-29 right at the border, and goes only 0.26 miles farther east before it officially terminates as it crosses the other interstate.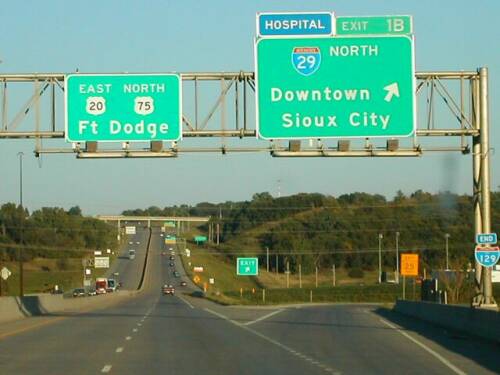 I-129's terminus. Note the "END I-129" sheild in the lower right. US 20 and US 75 continue east on the freeway ahead.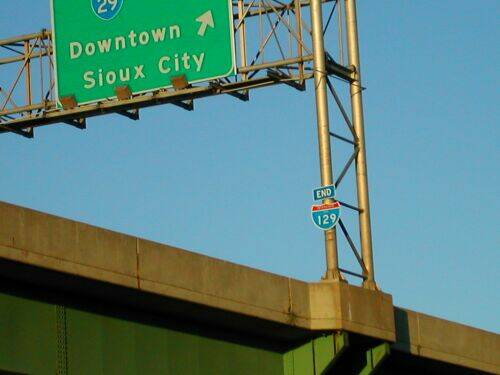 A shot of the same sign from under the bridge. I oughtta win a friggin pulitzer for this... driving 45, pointing the camera 30° behind my shoulder, out an open window... yeah baby!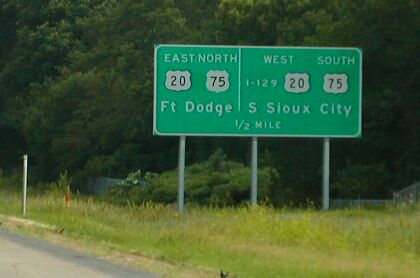 Southbound on I-29. An interesting note... travelling on I-29, one never sees an I-129 sign. It is always spelled out "I-129."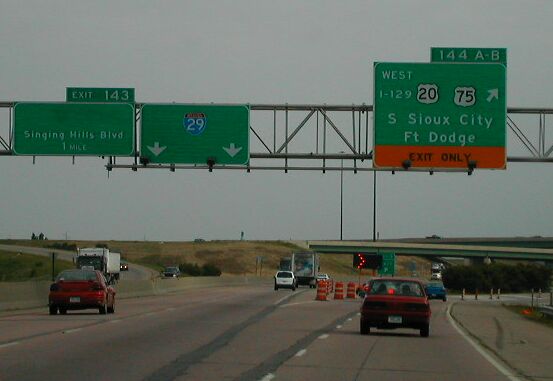 Exiting to I-129 from southbound I-29.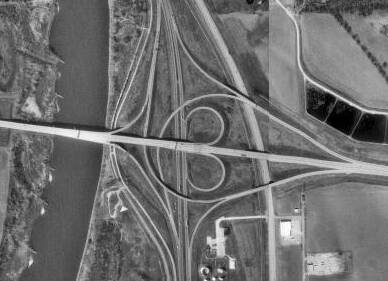 Finally, an aerial picture of this beautifully designed intersection! From MSN's Terraserver.
All photos above, taken by Neil Bratney, 9/20/02.
I-129 Exit List (coming soon!)
I-129 Links
I-129 at AARoads.com
I-129 info at the Iowa Highways Page
Written by Neil Alexander Bratney
Questions? Comments? Like to use a file? Please e-mail me.
Go to Neil's Iowa Termini Page. Go to Neil Bratney's Homepage.
Page Created February 28, 2003